Ageing is inevitable, but how we age is not. At this special event, wellbeing expert and Netmums founder Siobhan Freegard shares how we can adopt healthy approaches in midlife - to boost our wellbeing and maintain happiness as we grow older.
Mid-life can be particularly hard as we struggle with work responsibilities, raising children, ageing parents, financial issues and health challenges. Menopause impacts half the population and can have a huge impact - from extra weight around your middle to managing intense emotions to the impact on your relationships. And this impacts men too: over two-thirds of divorces are initiated by women and the key time to divorce is in mid-life.
Siobhan explores how you can embrace midlife and find ways to thrive in this stage of your life. With helpful insights and tips about the menopause and more - including how to talk about what you're going through with the key people in your life. And she explains how, by positively approaching and managing this transition, you can set yourself up healthily for the next phase of your life.
This conversation with Dr Mark Williamson was recorded at a live Action for Happiness event on 30 Nov 2022.
About The Speaker
Siobhan Freegard is founder of the UK's first and most commercially successful parenting site Netmums and was awarded an OBE by Prince William for 'Services to Families'. She is author of the bestselling book 'How to be a Happy Mum' and founder of the UK's only all-female ethical influencer agency ChannelMumTalent.com. She has worked with organisations including Google, YouTube, Kellogg's, Iceland, Yahoo, The Baby Show and The Institute of Health Visiting. She has also appeared regularly in the media, including BBC Breakfast, ITV This Morning, Good Morning Britain, Sky News, Loose Women, ITV News, The Sun, The Times, The Telegraph, Daily Mail and Mail Online, Daily Mirror and Guardian. Siobhan is an advisor on wellbeing issues at Institute of Health Visitors, Relate, Department of Health, Gingerbread, Homestart, Family Links and Mind.
Siobhan says: "I spoke at the launch of Action for Happiness (in 2011) when I was a young mum who had come through post natal depression and was working with very many mums going through the same challenges and adapting to family life. I have continued to use the AFH guiding principles in my life and work and more recently, through the changes that come with menopause. As we get older, our lives, our bodies and our challenges change, but the fundamental principles for happier living are the same. I'll be speaking about how can we can use these guiding principles to more calmly transition to this next phase of our lives and set ourselves the right mindset for the future".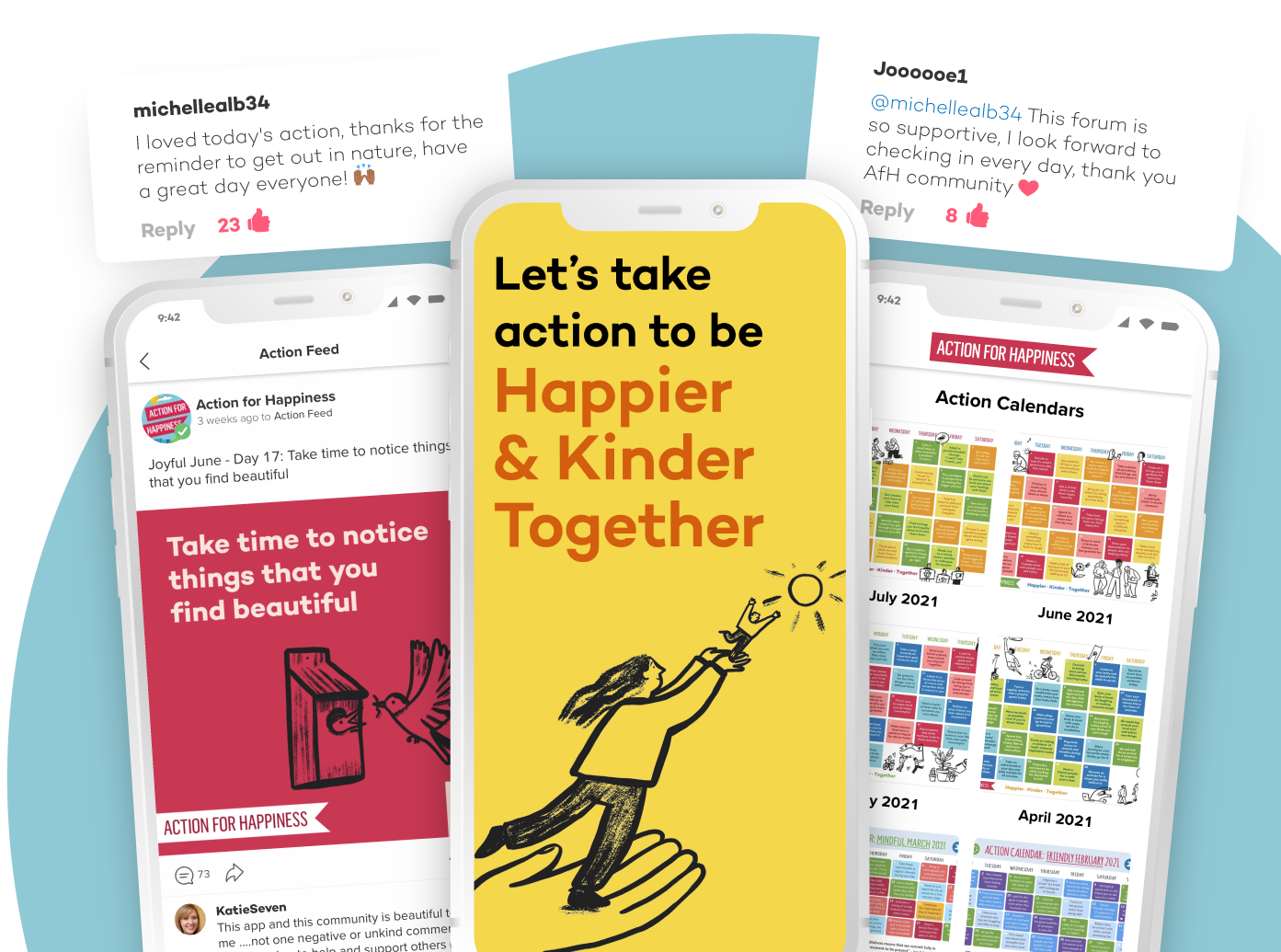 Download the FREE Action for Happiness app for iOS or Android
 Gives you friendly nudges with an action idea each day
 Sends you inspiring messages to give you a boost
 Helps you connect & share ideas with like-minded people
Image

Image