Vanessa King is a board member at Action for Happiness and author of our Ten Keys to Happier Living book. She plays an active role, speaking nationally and internationally and translating the latest psychological research into practical action to help individuals, organisations and communities enhance their wellbeing and resilience.
Vanessa has a background in professional services, with expertise in leadership, talent and organisational development. She has worked with a wide range of different clients, including: Astra Zeneca, Boots, British Gas, British Library, British Telecom, DHL, DTI, Genzyme, KPMG, Lloyds, Marks and Spencer, National Audit Office, News Corporation, Philips, Radio Authority, RBS, Roche, Sainsburys, Sekisui Enzymes, Sony Ericsson, TNT, UK Healthcare Commission, UK Office of Science and Technology, UNHCR, University of Bradford, and Wolff Olins.
She is one of a small group people globally to have completed a Masters in Applied Positive Psychology at the University of Pennsylvania, studying under Martin Seligman and many of the other leaders in the field including David Cooperrider (Appreciative Inquiry), Barbara Fredrickson, Ed Diener, Chris Peterson, Mihalyi Csikzentmihalyi, Karen Reivich and Angela Duckworth.
Vanessa combines in-depth knowledge of the science of well-being with her client experience to help people get the most from work and for organisations to get the best from its people. She delivers a range of workshops focused on well-being, resilience and workplace creativity as well as working alongside organisations to design bespoke solutions. Vanessa is the architect of the 10 Keys to Happier Living framework and developed the Doing Well from the Inside Out programme for organisations, leading its successful pilot and roll-out with a global FTSE 100 organisation. She also authored the extensive psychological content on the Action for Happiness website.
She is trained as a facilitator on the University of Pennsylvania's Master Resilience Training programme for the US Army, she is a master practitioner of the Happiness at Work survey and a member of the UK Government's employee engagement taskforce, Engage for Success.
Prior to consulting Vanessa qualified as a chartered accountant, working in Corporate Tax at Arthur Andersen (where she also played an active role in graduate recruitment) and PWC where she became a business analyst, which fuelled her interest in the potential of people and organisations and led her to move into HR with two global banks, Morgan Stanley and Bankers Trust. She has a BSc (Joint Hons) in Psychology and Zoology, is a member of the International Positive Psychology Association and an affiliate member of the CIPD.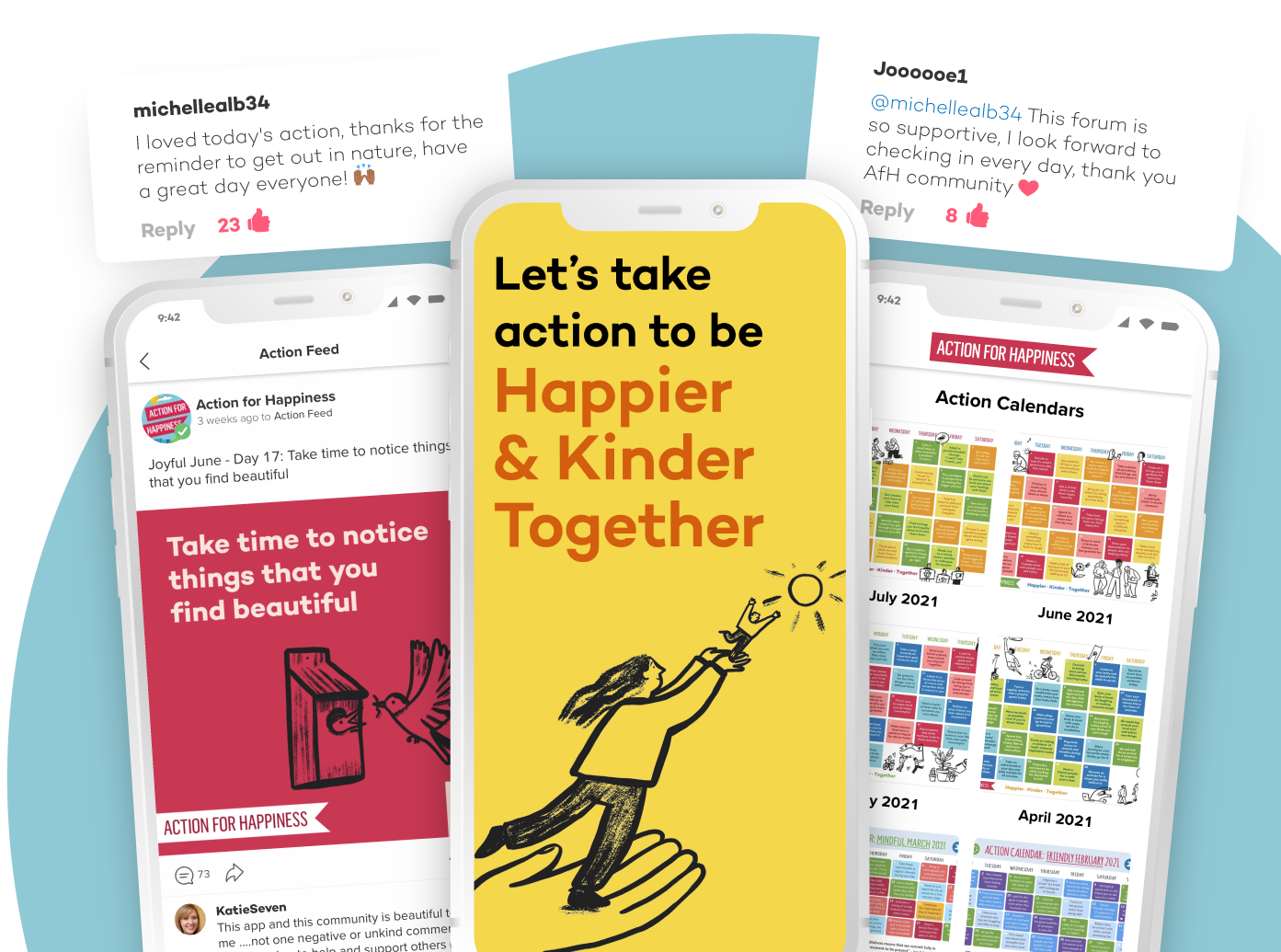 Download the FREE Action for Happiness app for iOS or Android
 Gives you friendly nudges with an action idea each day
 Sends you inspiring messages to give you a boost
 Helps you connect & share ideas with like-minded people
Image

Image