Diversity Equity Inclusion and Belonging
We believe that happiness is for everybody.
Unfortunately, access to health and happiness is unequal across our society.
We want to help build a more inclusive society where everyone feels that they belong and that they matter,
AfH is committed to our Policy on Diversity, Equity, Inclusion and Belonging (DEIB) and to an ongoing journey of learning, unlearning and integration on these topics. Read our full DEIB policy here.
Our Pledge
Everyone who joins Action for Happiness is asked to commit to our pledge: I will try to create more happiness and less unhappiness in the world around me.
The pledge captures why we exist and what we believe. It guides how we act and the choices we make. It upholds what we expect from staff, members and volunteers, and is the foundation of our code of conduct. Everyone involved with AfH should:
Uphold the pledge
Respect the basic rights of others by acting fairly, honestly and tactfully, and by treating people with dignity and respect
Maintain high standards of personal and professional conduct
Protect the safety and well-being of themselves and others
Protect the organisation's assets and resources
Report any matter that breaks these guidelines or the wider standards of accountability.
The Environment
A flourishing natural environment is an essential part of a happier, kinder world.
Spending time in nature is one of the easiest ways to improve well-being.
Looking at green spaces, connecting with animals, wild swimming or gardening are just a few ways nature can give us a happiness boost.
Developing compassion for other people and for the natural world is a core part of our work and an important way to inspire individuals to address the climate emergency.
Our home Earth is under threat from climate change, plastic and human expansion. We are committed to facing up to this emergency and to sustainable policies that support our natural habitat.
We are a small charity and our offices are located in WeWork, there are no single-use plastics, it is meat-free and committed to being carbon neutral by 2023. You can read about their commitments to the environment here.
We have environmental and ethical standards for any procurement or subcontracting we do.
This website is hosted on carbon neutral servers.
Donations Policy
Action for Happiness believes in harnessing the power of philanthropists and the private sector to build a happier kinder world.
Wherever possible we seek to work with funders who are aligned with our mission and values.
A risky donation would be a donation from a funder whose activities do not align with our mission and values. They may be causing more unhappiness than happiness in the world and may bring AfH into disrepute.
Any potentially risky donations are reviewed by our senior leadership and where required by our board. Decisions are made based on a balance of assessing the risk of the type of donation and the benefit the donation could have to our work.
There are some funders that we see as no-go because their activities are not aligned with our mission, values and membership.
Pornography
Tobacco
Arms manufacturing and export
Carbon intensive fossil fuels
Individuals whose wealth is known to result from illegal activities or where there are indications of corruption and related economic crime.
Safeguarding, Whistleblowing & Complaints
We have a separate page that explains our Safeguarding Policy and approach in detail. That page also provides further detail about managing any conflict or hostility that may arise at our activities and events. This process should be the first port of call for conflict resolution.
If there is a Safeguarding issue you wish to report you can use this form. This form may be seen by Action for Happiness staff members.
If you have a specific complaint or allegation about an Action for Happiness staff member, please write to us at [email protected]. Ask for the contact details of one of our senior 'Head of' staff members, then email details of your complaint directly to them.
If you have a complaint about an Action for Happiness community member or volunteer that you think cannot be managed through the Safeguarding Policy and reporting process please contact [email protected]
If you see something on our website or in our materials that you think we have got wrong and could be improved, please let us know by emailing [email protected]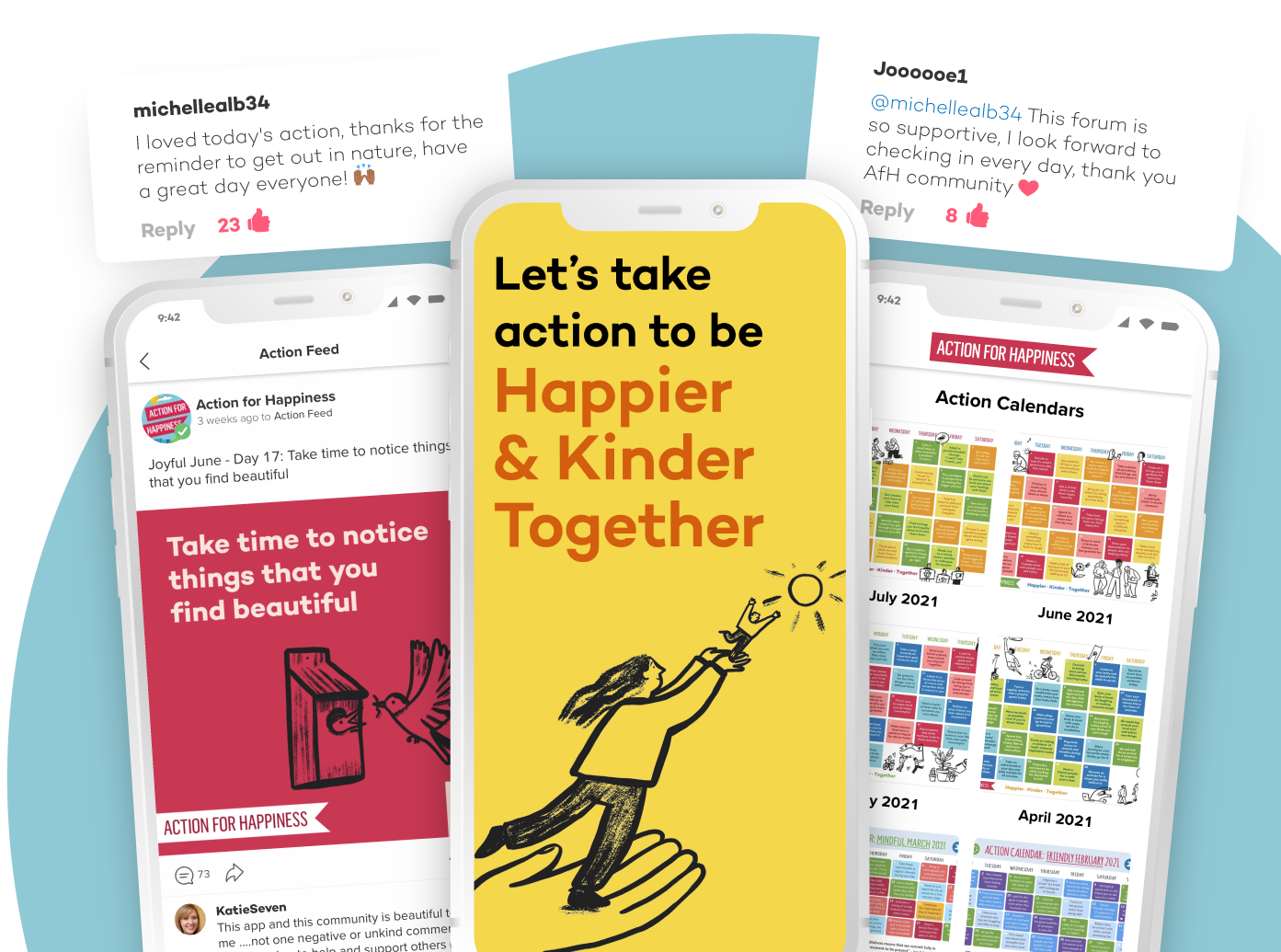 Download the FREE Action for Happiness app for iOS or Android
 Gives you friendly nudges with an action idea each day
 Sends you inspiring messages to give you a boost
 Helps you connect & share ideas with like-minded people
Image

Image